Lutz Goehring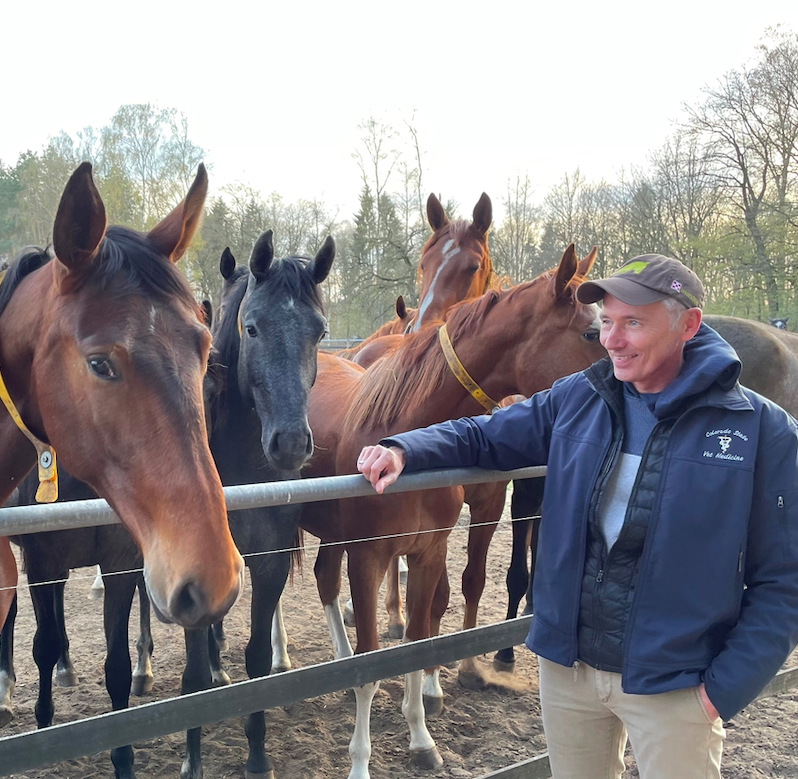 Lutz Goehring
Professor, Warren Wright, Sr.—Lucille Wright Markey Endowed Chair in Equine Infectious Diseases
Faculty
Last Revised: Apr 25th, 2023
Professional Biography
Infectious Diseases
Equid Alphaherpesvirus 1
Lutz Goehring Research Group 
World Organization of Animal Health (formerly OIE) reference laboratory for EHV-1.
For a little over two decades now my laboratory focuses on Equid alphaherpesvirus 1 (EHV-1, formerly known as: Equine herpesvirus type 1), and the interaction of virus with its exclusive host, the horse. It is an important contagious pathogen for the horse, as this virus is able to cause outbreaks of abortions or neurologic disease in the horse. I did this work on both sides of the Atlantic Ocean, in the US (Colorado) and in Europe (the Netherlands and Germany).
My focus is on:
Pathogen meets host: how does EHV-1 cause neurological disease (EHM) or abortion following an infection, and on latency research.
Transmission (spread) within a herd and on surveillance (or early environmental detection).
Vaccine or therapeutics testing
Epidemiology: outbreak investigation, and what are risk factors for EHM and abortion?
Viremic spread, a dispersion of intracellular virus in leukocytes via the bloodstream, is probably the key ingredient for EHM and abortion. However, it is not just a simple transportation and delivery mechanism to the vasculature of spinal cord or pregnant uterus. Not all infected animals will become viremic, and not all viremic animals will develop these feared complications of the infection. We believe that a systemic inflammatory environment influences the receptiveness of the vasculature for the virus to i) infect endothelial cell of blood vessels, and ii) to allow lymphocytes and monocytes to leave the blood vessel at the spinal cord to cause EHM and at the late-pregnant uterus to cause abortion. We need to better understand the processes before, during and right after viremia if we want to interfere!
Latency is a technical term that is frequently used in any species with herpesvirus infection. Latency is a dormant or sleeper stage of EHV-1 which is established shortly after its acute infection of the respiratory tract. It is a life-long infection, however, it is a very quiet time, as EHV-1 is not replicating and apparently (as far as we know) not causing damage in a latent stage. A latent EHV-1 infection is established in the trigeminal ganglion neurons and in the lymphatics of the upper respiratory tract. We believe it is a silent infection for months, more likely for years, but following triggers, EHV-1 can reactivate and return to the respiratory tract where it replicates (Reactivation& Recrudescence, R&R), and from where this virus can spread (via droplet infection) into other horses of the herd. We need to better understand the mechanisms and risk factors that lead to R&R if we want to prevent spread and outbreaks of EHM and abortion caused by EHV-1. One horse is enough to cause an entire outbreak!
EHV-1 is a pathogen that replicates in the respiratory tract and spreads fluids created in the respiratory tract through droplets and aerosols. Direct nose-nose contact between 2 horses is sufficient and probably the most efficient way to infection transfer. Also (freshly) contaminated objects (buckets, gear, tack, but also hands) can contribute to spread. Little is known about airborne transmission via droplets or aerosols other than 'increasing the distance between two horses will decrease the risk of transmission'. We need to understand how different 'infectious doses' and/or 'dose over time' leads to variation of clinical outcome.
We need to test existing and newly developed vaccines or therapeutics on how they prevent viremia, EHM and abortion. We need to understand what factors are responsible for 'viremia only' in one horse, and EHM and abortion in the other. 
Follow me on:
Scholars@UK
Publications:
Goehring LS, Brandes K, Ashton LV, Wittenburg LA, Olea-Popelka FJ, Lunn DP, Soboll Hussey G. Anti-inflammatory drugs decrease infection of endothelial cells with EHV-1 in vitro. Equine Vet J. 2016.
Saklou N, Burgess B, Goehring LS. Environmental persistence of equid herpesvirus type-1: Equine Vet J. 2020.
Nicola Pusterla, Gisela Soboll Hussey, Lutz S. Goehring. Equine Herpesvirus-1 Myeloencephalopathy. Vet Clin North Am Equine Pract. 2022.
Samoilowa S, Giessler K, Medina Torres CE, Soboll Hussey G, Allum A, Fux R, Jerke C, Kiupel M, Matiasek M, Sledge DG, Goehring LS. Equid herpesvirus-1 Distribution in Equine Lymphoid and Neural Tissues 70 Days Post Infection. 2021 Pathogens 2021, 10, x.
Eva Klouth, Yury Zablotski, Jessica L Petersen, Marco de Bruijn, Gittan Gröndahl, Susanne Müller, Lutz S Goehring. Epidemiological Aspects of Equid Herpesvirus-Associated Myeloencephalopathy (EHM) Outbreaks. Viruses 2022;14:2576.
Kim S. Giessler, Susanna Samoilowa, Gisela Soboll Hussey, Matti Kiupel, Kaspar Matiasek, Dodd G. Sledge, Friederike Liesche, Jürgen Schlegel, Robert Fux, Lutz S. Goehring. Viral load and cell tropism during early latent Equid Herpesvirus 1 infection differ over time in lymphoid and neural tissue samples from experimentally infected horses. Front Vet Sci 2020,7:621.
Sonis JM, Goehring LS. Prevalence of Equine Herpesvirus 1 and Equine Herpesvirus 4 as detected by quantitative PCR in nasal secretions of febrile horses. J Equine Vet Sci 2013,33:756-759.

Goehring LS, Soboll Hussey G, Gomez Diez M, Benedict K, Maxwell LK, Morley PS, Sloet van Oldruitenborgh-Oosterbaan MM, Lunn DP. Plasma D-dimer concentrations during experimental EHV-1 infections. J Vet Intern Med. 2013;27:1535-42.

Gardiner DW, Lunn DP, Goehring LS, Chiang YW, Cook C, Osterrieder N, McCue P, Del Piero F, Hussey SB, Hussey GS. Strain impact on equine herpesvirus type 1 (EHV-1) abortion models: viral loads in fetal and placental tissue and foals. Vaccine. 2012.
S. Wilsterman, G. Soboll-Hussey, D.P. Lunn, L.V. Ashton, R.J. Callan, S.B Hussey, S. Rao, L.S. Goehring. Equine herpesvirus-1 infected peripheral blood mononuclear cell subpopulations during viremia. Vet Microbiol 2011,149:40-47
LS Goehring, G Soboll Hussey, LV Ashton, DP Lunn. Infection of central nervous system endothelial cells with EHV-1. Vet Microbiol 2011,148:389-395
Goehring LS, Landolt GA, Morley PM. Detection and management of an outbreak of EHV-1 infection and associated neurological disease in a Veterinary Teaching Hospital. J Vet Internal Med 2010;24:1176-83.
Goehring LS, Wagner B, Bigbie R, Hussey SB, Rao S, Morley PS, Lunn DP. Control of EHV-1 viremia and nasal shedding by commercial vaccines. Vaccine 2010,28:3203-11.
Lutz Goehring graduated as DVM from Utrecht University, the Netherlands. He is a board-certified specialist in veterinary internal medicine (large animal) of the American (ACVIM) and of the European College (ECEIM) equine internal medicine.